Int J Med Sci 2021; 18(9):1953-1959. doi:10.7150/ijms.56139 This issue
Review
Research progress on hepatic machine perfusion
Department of Liver Surgery, Renji Hospital, School of Medicine, Shanghai Jiao Tong University, Shanghai, China.
*These authors contributes equally to this article.

This is an open access article distributed under the terms of the Creative Commons Attribution License (https://creativecommons.org/licenses/by/4.0/). See http://ivyspring.com/terms for full terms and conditions.
Citation:
Gao J, He K, Xia Q, Zhang J. Research progress on hepatic machine perfusion.
Int J Med Sci
2021; 18(9):1953-1959. doi:10.7150/ijms.56139. Available from
https://www.medsci.org/v18p1953.htm
Abstract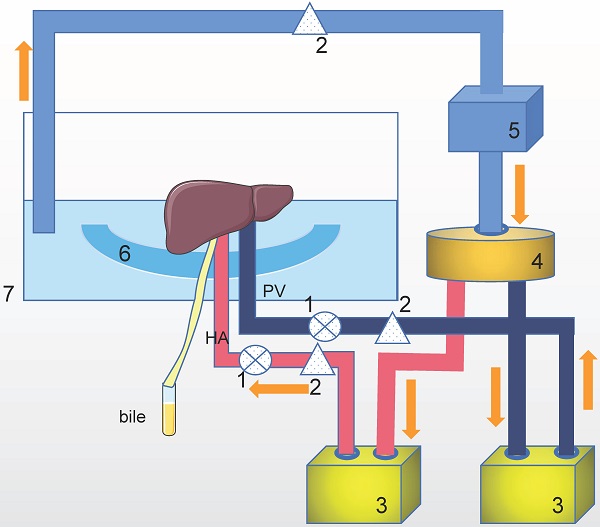 Nowadays, liver transplantation is the most effective treatment for end-stage liver disease. However, the increasing imbalance between growing demand for liver transplantation and the shortage of donor pool restricts the development of liver transplantation. How to expand the donor pool is a significant problem to be solved clinically. Many doctors have devoted themselves to marginal grafting, which introduces livers with barely passable quality but a high risk of transplant failure into the donor pool. However, existing common methods of preserving marginal grafts lead to both high risk of postoperative complications and high mortality. The application of machine perfusion allows surgeons to make marginal livers meet the standard criteria for transplant, which shows promising prospect in preserving and repairing donor livers and improving ischemia reperfusion injury. This review summarizes the progress of recent researches on hepatic machine perfusion.
Keywords: hepatic machine perfusion, hypothermic machine perfusion, subnormothermic machine perfusion, normothermic machine perfusion, liver transplantation, extended criteria donors