Int J Med Sci 2021; 18(7):1570-1579. doi:10.7150/ijms.53220 This issue
Research Paper
Global profile of tRNA-derived small RNAs in gastric cancer patient plasma and identification of tRF-33-P4R8YP9LON4VDP as a new tumor suppressor
1. Department of Biochemistry and Molecular Biology, and Zhejiang Key Laboratory of Pathophysiology, School of Medicine, Ningbo University, Ningbo 315211, China.
2. Ningbo No. 1 Hospital Affiliated to Ningbo University School of Medicine.

This is an open access article distributed under the terms of the Creative Commons Attribution License (https://creativecommons.org/licenses/by/4.0/). See http://ivyspring.com/terms for full terms and conditions.
Citation:
Shen Y, Yu X, Ruan Y, Li Z, Xie Y, Yan Z, Guo J. Global profile of tRNA-derived small RNAs in gastric cancer patient plasma and identification of tRF-33-P4R8YP9LON4VDP as a new tumor suppressor.
Int J Med Sci
2021; 18(7):1570-1579. doi:10.7150/ijms.53220. Available from
https://www.medsci.org/v18p1570.htm
Abstract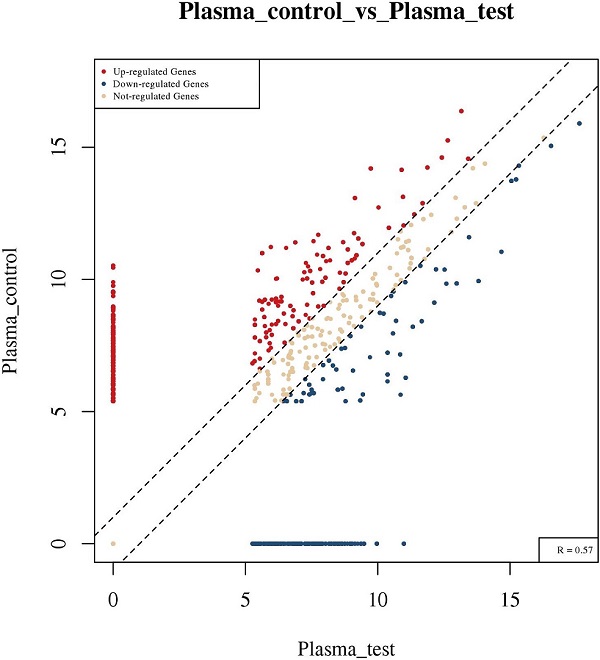 Transfer RNA (tRNA)-derived small RNAs (tsRNAs) have been found to play important roles in the occurrence and development of cancers. However, the tsRNA profile in gastric cancer is unknown. In this study, we aimed to identify the global tsRNA profile in plasma from gastric cancer patients and elucidate the role of tRF-33-P4R8YP9LON4VDP in gastric cancer. Differentially expressed tsRNAs in the plasma of gastric cancer patients and healthy controls were investigated using RNA sequencing. The expression levels of tRF-33-P4R8YP9LON4VDP in the plasma of gastric cancer patients, healthy controls and gastric cancer cell lines were first detected by quantitative reverse transcription-polymerase chain reaction. The effects of tRF-33-P4R8YP9LON4VDP overexpression or downregulation in gastric cancer cells on proliferation, migration, apoptosis, and cell cycle were analyzed using the Cell Counting Kit‐8, scratch assay, Transwell assay, and flow cytometry, respectively. There were 21 upregulated and 46 downregulated tsRNAs found in plasma from gastric cancer patients. The significantly upregulated tsRNAs included tRF-18-S3M83004, tRF-31-PNR8YP9LON4VD, tRF-19-3L7L73JD, tRF-33-P4R8YP9LON4VDP, tRF-31-PER8YP9LON4VD, tRF-18-MBQ4NKDJ, and tRF-31-PIR8YP9LON4VD. The significantly downregulated tsRNAs included tRF-41-YDLBRY73W0K5KKOVD, tRF-18-07QSNHD2, tRF-28-86J8WPMN1E0J, tRF-29-86V8WPMN1EJ3, tRF-31-6978WPRLXN4VE, tRF-30-MIF91SS2P46I, tRF-26-MI7O3B1NR8E, tRF-30-RRJ89O9NF5W8, tRF-26-XIP2801MK8E, and tRF-35-V0J8O9YEKPRS93, In vitro studies showed that tRF-33-P4R8YP9LON4VDP inhibited proliferation of gastric cancer cells. In conclusion, tsRNAs such as tRF-33-P4R8YP9LON4VDP could serve as a novel diagnostic biomarker and target for gastric cancer therapeutics.
Keywords: tRNA-derived small RNAs (tsRNAs), tRNA-derived fragment (tRF), gastric cancer, tRF-33-P4R8YP9LON4VDP, proliferation.