Global reach, higher impact
International Journal of Biological Sciences
Journal of Bone and Joint Infection (JBJI)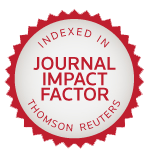 Int J Med Sci 2017; 14(12):1220-1230. doi:10.7150/ijms.20303
Research Paper
Extracorporeal Shockwave Therapy Enhances Expression of Pdia-3 Which Is a Key Factor of the 1α,25-Dihydroxyvitamin D 3 Rapid Membrane Signaling Pathway in Treatment of Early Osteoarthritis of the Knee
1. Center for Shockwave Medicine and Tissue Engineering,
2. Department of Orthopedic Surgery,
3. Medical Research, Kaohsiung Chang Gung Memorial Hospital and Chang Gung University College of Medicine, Kaohsiung, Taiwan.

The goal of our research was demonstrated that multiple molecules in microenvironments of the early osteoarthritis (OA) joint tissue may be actively responded to extracorporeal shockwave therapy (ESWT) treatment, which potentially regulated biological function of chondrocytes and synovial cells in early OA knee. We demonstrated that shockwave treatment induced the expression of protein-disulfide isomerase-associated 3 (Pdia-3) which was a significant mediator of the 1α,25-Dihydroxyvitamin D 3 (1α,25(OH)2D3) rapid signaling pathway, using two-dimensional electrophoresis, histological analysis and quantitative polymerase chain reaction (qPCR). We observed that the expression of Pdia-3 at 2 weeks was significantly higher than that of other group at 4, 8, and 12 weeks post-shockwave treatment in early OA rat knee model. The other factors of the rapid membrane signaling pathway, including extracellular signal-regulated protein kinases 1 (ERK1), osteopontin (OPG), alkaline phosphatase (ALP), and matrix metallopeptidase 13 (MMP13) were examined and were found to be significantly increased at 2 weeks post-shockwave treatment by qPCR in early OA of the knee. Our proteomic data revealed significant Pdia-3 expression in microenvironments of OA joint tissue that could be actively responded to ESWT, which may potentially regulate the biological functions of chondrocytes and osteoblasts in the treatment of the early OA of the knee.
Keywords: protein-disulfide isomerase-associated 3, osteoarthritis, extracorporeal shockwave therapy, 1α, 25-Dihydroxyvitamin D3 signaling pathway, two dimensional electrophoresis
This is an open access article distributed under the terms of the Creative Commons Attribution (CC BY-NC) license (https://creativecommons.org/licenses/by-nc/4.0/). See http://ivyspring.com/terms for full terms and conditions.
How to cite this article:
Hsu SL, Cheng JH, Wang CJ, Ko JY, Hsu CH. Extracorporeal Shockwave Therapy Enhances Expression of Pdia-3 Which Is a Key Factor of the 1α,25-Dihydroxyvitamin D 3 Rapid Membrane Signaling Pathway in Treatment of Early Osteoarthritis of the Knee.
Int J Med Sci
2017; 14(12):1220-1230. doi:10.7150/ijms.20303. Available from
http://www.medsci.org/v14p1220.htm