Global reach, higher impact
International Journal of Biological Sciences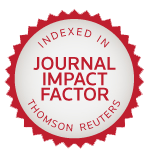 Int J Med Sci 2014; 11(9):936-947. doi:10.7150/ijms.8277
Research Paper
Potential Dual Immunomodulatory Role of VEGF in Ulcerative Colitis and Colorectal Carcinoma
1. Center for Gastroenterology, Clinical Center Kragujevac, Serbia
2. Center for Molecular Medicine and Stem Cell Research, Faculty of Medical Sciences, University of Kragujevac, Serbia
3. Department of Medical informatics and statistics, Faculty of Medical Sciences, University of Kragujevac, Serbia
4. Department of Pathology, Faculty of Medical Sciences, University of Kragujevac, Serbia

Objective. Progression from ulcerative colitis (UC) toward colorectal carcinoma (CRC) is multistep process that includes gene alterations of tumor suppressor genes, such as p53 and p16. The aim of this study was to investigate the expression patterns of p16, p53 and VEGF in affected tissue and serum levels of cytokines TNF-α, IFN-γ, IL-4, IL-6, IL-10 and IL-17 in patients with UC and CRC, respectively.
Matherials and methods. Serum levels of cytokine in patients with UC (n=24) and CRC (n=75) and in a healthy group (n=37) were analyzed by ELISA. Endoscopic biopsies specimens of UC and CRC were studied by immunohistochemical staining for p16, p53 and VEGF.
Results. Patients with UC with presence of extraintestinal manifestations, complications, and positive staining of p16, p53 and VEGF respectively had higher serum levels of pro-inflammatory cytokines. Higher percentage of CRC patients had positive staining of p16, p53 and VEGF. CRC patients with positive staining of VEGF had decreased systemic values of pro-inflammatory IFN-γ and increased values of immunosuppressive IL-10.
Conclusions. Relatively low IL-10 in patients with severe UC is insufficient to compensate IL-6 secretion and subsequently enhanced type 1/17 immune response. In UC patients, p16 and p53 induce enhanced VEGF expression and subsequent production of pro-inflammatory TNF-α and IL-6. In CRC patients VEGF seems to have immunosuppressive role. It appears that tumor suppressor gene-VEGF axis have dual role on immune response in inflammation of UC and tumor growth and progression of CRC.
Keywords: ulcerative colitis, colorectal carcinoma, VEGF, Th1, Th17
How to cite this article:
Zdravkovic ND, Jovanovic IP, Radosavljevic GD, Arsenijevic AN, Zdravkovic ND, Mitrovic SL, Arsenijevic NN. Potential Dual Immunomodulatory Role of VEGF in Ulcerative Colitis and Colorectal Carcinoma.
Int J Med Sci
2014; 11(9):936-947. doi:10.7150/ijms.8277. Available from
http://www.medsci.org/v11p0936.htm