Global reach, higher impact
International Journal of Biological Sciences
Journal of Bone and Joint Infection (JBJI)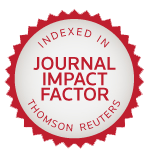 Int J Med Sci 2014; 11(9):897-904. doi:10.7150/ijms.9026
Research Paper
Comparison of the Antialbuminuric Effects of Benidipine and Hydrochlorothiazide in Renin-Angiotensin System (RAS) Inhibitor-Treated Hypertensive Patients with Albuminuria: the COSMO-CKD (COmbination Strategy on Renal Function of Benidipine or Diuretics TreatMent with RAS inhibitOrs in a Chronic Kidney Disease Hypertensive Population) Study
1. Division of Molecular Cardiovascular Metabolism, University of Tokyo Graduate School of Medicine, Tokyo, Japan
2. Department of Medicine, Kidney Center, Tokyo Women's Medical University, Tokyo, Japan
3. Department of Geriatric Medicine and Nephrology, Osaka University Graduate School of Medicine, Suita, Japan
4. Metabolism, Endocrinology and Molecular Medicine, Osaka City University Graduate School of Medicine, Osaka, Japan
5. Division of Nephrology, Kanazawa Medical University School of Medicine, Ishikawa, Japan
6. Department of Internal Medicine, Division of Kidney and Dialysis, Hyogo College of Medicine, Nishinomiya, Japan
7. Department of Nephrology and Hypertension, Kawasaki Medical School, Kurashiki, Japan
8. Department of Nephrology, Graduate School of Faculty of Life Science, Kumamoto University, Kumamoto, Japan
9. Department of Nephrology and Endocrinology, University of Tokyo Graduate School of Medicine, Tokyo, Japan
10. Department of Clinical Laboratory, Graduate School of Medicine, University of Tokyo, Tokyo, Japan
11. Division of Clinical Epigenetics, Research Center for Advanced Science and Technology, University of Tokyo, Tokyo, Japan.

Objective: This study evaluated the non-inferiority of renoprotection afforded by benidipine versus hydrochlorothiazide in hypertensive patients with chronic kidney disease (CKD).
Methods: In this prospective, multicenter, open-labeled, randomized trial, the antialbuminuric effects of benidipine and hydrochlorothiazide were examined in renin-angiotensin system (RAS) inhibitor-treated patients with blood pressure (BP) readings of ≥ 130/80 mmHg and ≤ 180/110 mmHg, a urinary albumin to creatinine ratio (UACR) of ≥ 300 mg/g, and an estimated glomerular filtration rate (eGFR) of ≥ 30 ml/min/1.73m2. Patients received benidipine (n = 176, final dose: 4.8 mg/day) or hydrochlorothiazide (n = 170, 8.2 mg/day) for 12 months.
Results: Benidipine and hydrochlorothiazide exerted similar BP- and eGFR-decreasing actions. The UACR values for benidipine and hydrochlorothiazide were 930.8 (95% confidence interval: 826.1, 1048.7) and 883.1 (781.7, 997.7) mg/g at baseline, respectively. These values were reduced to 790.0 (668.1, 934.2) and 448.5 (372.9, 539.4) mg/g at last observation carried forward (LOCF) visits. The non-inferiority of benidipine versus hydrochlorothiazide was not demonstrated (benidipine/hydrochlorothiazide ratio of LOCF value adjusted for baseline: 1.67 (1.40, 1.99)).
Conclusions: The present study failed to demonstrate the non-inferiority of the antialbuminuric effect of benidipine relative to that of hydrochlorothiazide in RAS inhibitor-treated hypertensive patients with macroalbuminuria.
Keywords: chronic kidney disease, hypertension, renin-angiotensin system inhibitor, L-/N-/T-type calcium channel blocker, thiazide diuretic, urinary albumin.
How to cite this article:
Ando K, Nitta K, Rakugi H, Nishizawa Y, Yokoyama H, Nakanishi T, Kashihara N, Tomita K, Nangaku M, Takahashi K, Isshiki M, Shimosawa T, Fujita T. Comparison of the Antialbuminuric Effects of Benidipine and Hydrochlorothiazide in Renin-Angiotensin System (RAS) Inhibitor-Treated Hypertensive Patients with Albuminuria: the COSMO-CKD (
CO
mbination
S
trategy on Renal Function of Benidipine or Diuretics Treat
M
ent with RAS inhibit
O
rs in a
C
hronic
K
idney
D
isease Hypertensive Population) Study.
Int J Med Sci
2014; 11(9):897-904. doi:10.7150/ijms.9026. Available from
http://www.medsci.org/v11p0897.htm