Global reach, higher impact
International Journal of Biological Sciences
Journal of Bone and Joint Infection (JBJI)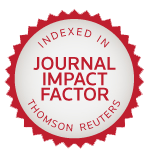 Int J Med Sci 2014; 11(5):488-493. doi:10.7150/ijms.6764
Research Paper
Identifying Hedgehog Signaling Specific MicroRNAs in Glioblastomas
Department of Neurosurgery, Huashan Hospital, Fudan University, Shanghai, 200040, China.
* These authors contribute equally to this work.

Aberrant activation of hedgehog (Hh) signaling pathway plays an important role in the development and proliferation of glioblastoma (GBM) cells. However, its mechanism remains unknown. MicroRNAs (miRNAs) are short non-coding RNA molecules which are involved in the post-transcriptional regulation of genes, and enrolled in signaling transduction network in tumors. This study was designed to investigate the role of miRNAs targeting the Hh signaling pathway in GBMs. According to the expression level of Gli1 mRNA measured by real time PCR, GBM samples were assigned to Gli1 high or low expression group. MiRNA microarray was applied to screen the dysregulated miRNA. As a result, 17 miRNAs were differentially expressed between Gli1 high expression and low expression groups (p < 0.005). Thirteen miRNAs including miR-125b-1 were downregulated, while only 4 miRNAs including miR-144 were upregulated in Gli1 high expression group. In summary, our study presents a subset of miRNAs which target the Hh signaling pathway in GBMs, and throws some light on the aberrant activation mechanism.
Keywords: MicroRNA, Glioblastoma, Hedgehog, Signaling pathway.
How to cite this article:
Gu W, Shou J, Gu S, Sun B, Che X. Identifying Hedgehog Signaling Specific MicroRNAs in Glioblastomas.
Int J Med Sci
2014; 11(5):488-493. doi:10.7150/ijms.6764. Available from
http://www.medsci.org/v11p0488.htm