Global reach, higher impact
International Journal of Biological Sciences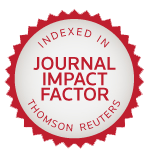 Int J Med Sci 2013; 10(8):948-956. doi:10.7150/ijms.5642
Research Paper
Down-Regulated CK8 Expression in Human Intervertebral Disc Degeneration
1. Department of Orthopaedics, Xijing Hospital, Fourth Military Medical University, 127 Changle Western Road, Xi'an, P. R. China.
2. Aerospace Medical School, 15 Changle Western Road, Fourth Military Medical University, Xi'an, P. R. China.
3. Department of Orthopaedics and Traumatology, University of Hong Kong, Pokfulam, Hong Kong, SAR China.
† These authors contribute equally to this work.

As an intermediate filament protein, cytokeratin 8 (CK8) exerts multiple cellular functions. Moreover, it has been identified as a marker of notochord cells, which play essential roles in human nucleus pulposus (NP). However, the distribution of CK8 positive cells in human NP and their relationship with intervertebral disc degeneration (IDD) have not been clarified until now. Here, we found the percentage of CK8 positive cells in IDD (25.7±4.14%) was significantly lower than that in normal and scoliosis NP (51.9±9.73% and 47.8±5.51%, respectively, p<0.05). Western blotting and qRT-PCR results confirmed the down-regulation of CK8 expression in IDD on both of protein and mRNA levels. Furthermore, approximately 37.4% of cell clusters were CK8 positive in IDD. Taken together, this is the first study to show a down-regulated CK8 expression and the percentage of CK8 positive cell clusters in IDD based upon multiple lines of evidence. Consequently, CK8 positive cells might be considered as a potential option in the development of cellular treatment strategies for NP repair.
Keywords: intervertebral disc degeneration, nucleus pulposus, cytokeratin 8, cell clusters, Immunofluorescence, qRT-PCR.
How to cite this article:
Sun Z, Wang HQ, Liu ZH, Chang L, Chen YF, Zhang YZ, Zhang WL, Gao Y, Wan ZY, Che L, Liu X, Samartzis D, Luo ZJ. Down-Regulated CK8 Expression in Human Intervertebral Disc Degeneration.
Int J Med Sci
2013; 10(8):948-956. doi:10.7150/ijms.5642. Available from
http://www.medsci.org/v10p0948.htm