Global reach, higher impact
International Journal of Biological Sciences
Journal of Bone and Joint Infection (JBJI)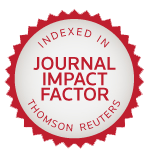 Int J Med Sci 2011; 8(5):424-427. doi:10.7150/ijms.8.424
Case Report
Placenta Percreta-Induced Uterine Rupture Diagnosed By Laparoscopy in the First Trimester
Department of Obstetrics and Gynecology, College of Medicine, St. Vincent's Hospital, The Catholic University of Korea, Seoul, Korea

Spontaneous uterine rupture is lethal in pregnant women. Placenta percreta-induced spontaneous uterine rupture in the first trimester is extremely rare and difficult to diagnose. A 35-year-old pregnant woman, with a history of 2 vaginal deliveries and 2 spontaneous abortions treated by dilatation and curettage, was admitted to the emergency department because of sudden severe abdominal pain; the gestational age as calculated by sonography was 14 weeks. Diagnostic laparoscopy was considered for surgical abdomen and fluid collection that was noted in sonography. During laparoscopy, uterine rupture with massive bleeding was detected; therefore, total abdominal hysterectomy was performed. The patient was discharged without any complications. Pathological analysis of the uterine specimen revealed placenta percreta to be the cause of the rupture. Uterine rupture should be considered in the differential diagnosis in all pregnant women who present with acute abdomen, show fluid collection in the peritoneal cavity. In addition, we recommend laparoscopy for the investigation of acute abdomen with unclear diagnosis in the first trimester of pregnancy.
Keywords: pregnancy, first trimester, uterine rupture, laparoscopy
How to cite this article:
Jang DG, Lee GSR, Yoon JH, Lee SJ. Placenta Percreta-Induced Uterine Rupture Diagnosed By Laparoscopy in the First Trimester.
Int J Med Sci
2011; 8(5):424-427. doi:10.7150/ijms.8.424. Available from
http://www.medsci.org/v08p0424.htm