Global reach, higher impact
International Journal of Biological Sciences
Journal of Bone and Joint Infection (JBJI)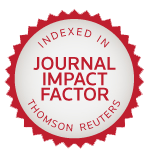 Int J Med Sci 2011; 8(5):402-405. doi:10.7150/ijms.8.402
Case Report
Mirror-Image Arachnoid Cysts in a Pair of Monozygotic Twins: A Case Report and Review of the Literature
1. Department of Neurosurgery, Second Affiliated Hospital, School of Medicine, Zhejiang University, Hangzhou, China
2. Department of Neurology, Second Affiliated Hospital, School of Medicine, Zhejiang University, Hangzhou, China

Mirror-imaging of arachnoid cysts (ACs) in monozygotic twins (MZ) is extremely rare. We describe a pair of MZ who developed mirror-imaging of ACs in the temporal fossas, and we also review the literature. Brain computer tomography (CT) and Magnetic Resonance Imaging (MRI) of the MZ revealed mirror-imaging of vast lesions of cerebrospinal fluid intensity in their temporal fossas. This is the second ever report of such a case according to the available literature. Unlike the prior case, our patients were 14 months, which is a much younger age than the patients of the previous report. Consequently, our case is better in supporting a genetic origin in the pathogenesis of AC. The findings in our case indicate that early neuroimaging is mandatory in the counterpart of the symptomatic patient with AC, irrespective of the absence of symptoms.
Keywords: Mirror image, Arachnoid cyst, Monozygotic twins
How to cite this article:
Zhou JY, Pu JL, Chen S, Hong Y, Ling CH, Zhang JM. Mirror-Image Arachnoid Cysts in a Pair of Monozygotic Twins: A Case Report and Review of the Literature.
Int J Med Sci
2011; 8(5):402-405. doi:10.7150/ijms.8.402. Available from
http://www.medsci.org/v08p0402.htm