Global reach, higher impact
International Journal of Biological Sciences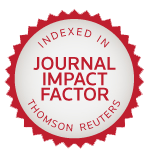 Int J Med Sci 2009; 6(6):301-304. doi:10.7150/ijms.6.301
Short Research Communication
A k2A-positive Klebsiella pneumoniae causes liver and brain abscess in a Saint Kitt's man
1. Department of Biological Sciences, College of Arts and Sciences, Florida International University, Miami, Florida 33199;
2. Department of Molecular Microbiology and Infectious Diseases, College of Medicine, Florida International University, Miami, Florida 33199;
3. Department of Agricultural Microbiology, Tamil Nadu Agricultural University, Coimbatore 641 003, India,
4. Department of Pathology, Mount Sinai Medical Center - FIU College of Medicine, Miami Beach, FL33140, USA

Klebsiella pneumoniae isolated in community-acquired pneumonia is increasingly found in primary pyogenic liver abscesses. The presence of magA in K. pneumoniae has been implicated in hypermucoviscosity and virulence of liver abscess isolates. The K2 serotype has also been strongly associated with hypervirulence. We report the isolation of non-magA, K2 K. pneumoniae strain from a liver abscess of a Saint Kitt's man who survived the invasive syndrome.
Keywords: Klebsiella pneumoniae, magA, 16S rRNA, k2A, dengue fever
How to cite this article:
Doud MS, Grimes-Zeppegno R, Molina E, Miller N, Balachandar D, Schneper L, Poppiti R, Mathee K. A
k2A
-positive
Klebsiella pneumoniae
causes liver and brain abscess in a Saint Kitt's man.
Int J Med Sci
2009; 6(6):301-304. doi:10.7150/ijms.6.301. Available from
http://www.medsci.org/v06p0301.htm